About SNAP¶
SNAP is the protocol spoken by all Synapse Wireless devices. You can use our SNAP modules we create, or you can incorporate the chipsets into your own hardware.
With the SNAP OS firmware installed, devices automatically use an ad-hoc radio mesh network with other SNAP devices in range, so each can pass information back and forth and can relay messages to other SNAP devices that might be out of the original sender's range. With a line-of-sight range up to three miles, your devices can be distributed over a wide geographical area (or all grouped in the same building) and still maintain automatic communication between devices.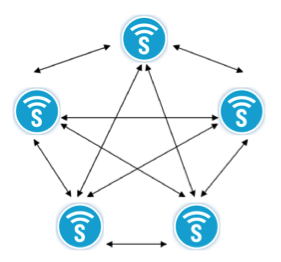 Because these devices are a combination of a data radio and a microprocessor, they can not only relay, send, and receive instructions from somewhere else, but can apply business intelligence using SNAPpy, a scripting language based on the Python programming language.
You can create scripts to monitor input signals (serial, analog, or digital) and control outputs, as well as sending and receiving serial data, or connecting to other devices over connections like SPI and I2C.
This means you can use SNAP products to keep track of and control what's going on somewhere else. The control can come from explicit commands you send, or from automated instructions triggered in response to timed events or changes to the environment.